Traditional Dresses in South Africa have evolved over the years, processed leather and dress fabrics have replaced the Leopard skins and cow hides, pleated skirts have replaced the reed skirts that were worn in the past. African Fashion Designers have creatively incorporated traditional African dress designs to be relevant and carry the cultural significance into the modern traditional dress designs.
Historical Background
Traditional dresses in South Africa have a long and storied history, dating back centuries to the indigenous peoples who inhabited the region. These diverse communities developed unique clothing styles, materials, and techniques, which were influenced by their environments, social structures, and spiritual beliefs. With the arrival of European settlers and the colonization of South Africa, the traditional attire underwent changes as indigenous cultures interacted with and adapted to new influences.
Key Elements of Traditional Dresses
Fabrics and Materials: South African Traditional dresses often feature a wide range of fabrics and materials, each specific to the region and culture. Common materials include animal hides, grass, bark, and various types of cloth. Animal hides, such as cowhide and goatskin, are used for garments like the isiXhosa's intsimbi (skin skirt), while grass and reeds are woven into intricate patterns for Zulu and Ndebele skirts and hats.

Colors and Designs: Color plays a crucial role in South African Traditional Dresses. Different cultures use a variety of vibrant colors and bold patterns to convey messages and symbolize aspects of their identity. For example, the Zulu culture often uses bold, contrasting colors like red, black, and white in their beadwork, while the Xhosa people are known for their striking geometric patterns.

Beadwork and Accessories: Beadwork is a prominent feature in South African traditional attire. Beads are used to adorn clothing, creating intricate patterns and designs. Beadwork serves both functional and symbolic purposes, often indicating the wearer's social status, age, and marital status. Accessories such as necklaces, bracelets, and anklets are also crafted from beads and hold significant cultural significance. 
Significance and Cultural Expression
Traditional Dresses in South Africa are not merely a form of dress but a profound expression of culture, identity, and heritage. These garments hold deep symbolic value, conveying information about a person's age, marital status, and social standing. Moreover, they are used in various cultural ceremonies, including weddings, initiation rites, and traditional dances.
In recent years, there has been a resurgence of interest in traditional dresses, with many South Africans proudly embracing their heritage by incorporating these garments into their daily lives and special occasions. This resurgence has also led to a renewed appreciation for the craftsmanship and artistry involved in creating traditional attire.
What Type Of Dress is Traditional In South Africa?
Traditional dress in South Africa varies significantly across different ethnic groups and regions due to the nation's diverse cultural landscape. Here are some examples of traditional dresses from a few of South Africa's major ethnic groups:
Zulu Traditional Dresses:

Isidwaba: Zulu women traditionally wear isidwaba, which is a colorful, wraparound skirt made of fabric with bold, geometric patterns.
Inkehli: Women often adorn their heads with an inkehli, a conical-shaped hat made from grass or reeds.
Beadwork: Zulu clothing is often adorned with intricate beadwork, including necklaces, bracelets, and anklets.

Xhosa Traditional Dresses:

Umbhaco: Xhosa women wear umbhaco, a colorful and decorative dress with a flared, pleated skirt and beaded bodice. This dress is often paired with a beaded apron.
Isikhakha: Isikhakha is a circular necklace made of beads and worn around the neck.

Sotho Traditional Dresses:

Shweshwe Dresses: The Sotho people are known for their shweshwe dresses, characterized by vibrant colors and geometric patterns. These dresses are often paired with colorful blankets.
Basotho Blankets: The Basotho people also wear distinctive woolen blankets, which are draped over the shoulders and often have intricate designs.

Ndebele Traditional Dresses:

Isigolwani: Ndebele women wear isigolwani, which are heavy brass or copper rings worn around their necks, arms, and legs. These rings are a significant part of their traditional attire.

Tsonga Traditional Dresses:

Xibelani: Tsonga women often wear xibelani, a two-piece outfit consisting of a beaded bra top and a colorful, flared skirt made of fabric. The skirt is known for its distinctive swaying motion when worn during dances.

Venda Traditional Dresses:

Venda Dresses: Venda women wear dresses with vibrant colors and patterns. These dresses often feature decorative beadwork and embroidery.

San and Khoi-San Traditional Dresses:

Animal Hide Garments: The San and Khoi-San indigenous groups traditionally wear clothing made from animal hides, such as leather loincloths and capes.

Shweshwe Traditional Dresses:

Shweshwe Prints: Shweshwe prints are widely regarded as a symbol of tradition and cultural pride in South Africa. The Shweshwe Dress still remains the best option across all the 9 cultures in South Africa.
It's important to note that within each ethnic group, there may be variations in traditional dress styles based on factors like age, marital status, and ceremonial occasions. Additionally, contemporary fashion trends and cultural exchange have influenced traditional dress over time, leading to some modern interpretations that blend traditional elements with contemporary designs.
South Africa's rich cultural heritage is celebrated through these traditional dresses, and they continue to play a significant role in cultural events, ceremonies, and as symbols of identity and pride among various communities across the nation.
100+ Traditional Dresses And Where To Find Them
South Africa is a diverse nation, known for its rich tapestry of cultures and traditions. One of the most vibrant and colorful aspects of South African culture is its traditional dresses. These garments not only serve as a means of self-expression but also reflect the deep-rooted cultural diversity that defines the country. We explore 100+ Traditional dresses and where to find them.
Khosi Nkosi Design Shweshwe Dress
A play on textures and movement, the ruffled dress adds a touch of whimsy to Khosi Nkosi's collection. Layers of ruffles create dimension and movement, resulting in a charming piece.
 Shweshwe  Doux Regal Couture
Xhosa Dress by MaXhosa
The Ethereal Whisper Traditional Xhosa gown by MaXhosa embodies ethereal romance. The bodice, adorned with its delicate stripes that cascade like a waterfall, enhances the natural beauty of the wearer. The gown's A-line skirt floats behind, leaving an enchanting impression of grace and elegance.
Antherline Couture
Antherline Couture's traditional dresses are a testament to Matome's unparalleled artistry and ability to create designs that embody both modern trends and timeless elegance. With each design, he weaves a story of romance, luxury, and individuality, ensuring that every individual who wears Antherline Couture creation feels like an ethereal vision on her special day.
Creating a structured silhouette with a peplum detail, this Peplum Tsonga Print Dress by Antherline Couture accentuates the waistline and celebrate the female form. 
Matome's creativity knows no bounds, as showcased in this Swazi print dress. This futuristic piece incorporates satin fabrics and unconventional silhouettes, inviting wearers to step into a new realm of fashion.
 Xhosa Peplum Halterneck Dress By Antherline Couture
The Xhosa ballgown by Antherline Couture is a true work of art. The bodice features a halterneck with striped appliqués that add depth and texture, while the voluminous mermaid ballgown skirt creates a breathtaking silhouette fit for the grandest occasions.
Matome's artistic inclinations come to life in his art-inspired Shweshwe dresses. These pieces feature bold prints that resemble paintings, transforming fashion into a canvas for self-expression.
The draped satin goddess gown is the epitome of African elegance. The cascading drapes of cottone create a goddess-like aura, while the empire waistline and flowing skirt evoke a sense of timeless beauty
 The "Playful layered Ruffle" Venda wedding dress by Antherline Couture is a celebration of movement and texture. The tiers of ruffles cascade down the neckline and shoulder, creating a dynamic and playful look, while the A line offers a flattering contrast.
Maroon and Yellow Tsonga Wedding Dress by Antherline Couture
The Tsonga Print gown by Tsonga Print By Antherline Couture embodies ethereal romance with its delicate layers of silk organza that cascade like a waterfall. The bodice, adorned with intricate pleats, enhances the natural beauty of the wearer. The matching crown leaves an enchanting impression of grace and elegance.
 Drop Shoulder A Line Shweshwe Gown with Matching Doek by Antherline Couture
The "Shweshwe with Lace Enchantment" A-line gown is a testament to Matome's ability to create modern yet timeless designs. The drop shoulder sleeves evoke vintage charm, while the flowing A-line skirt ensures both comfort and grace.
A true masterpiece of architectural design, the Sculpted Shweshwe mermaid gown by Antherline Couture defines sensuality. The form-fitting bodice leads to a dramatic skirt that flares into a structured mermaid silhouette, creating a captivating interplay of movement and form.
Animal Print Wedding Gown With Crown by Antherline Couture
For the fashion-forward bride, the Dramatic Animal Print Traditional African Wedding gown by Antherline Couture offers a daring twist on tradition. The A-line skirt features layers of tulle that cascade into a dramatic train, while the voile sash over the bodice to add a touch of glamour.
This Timeless Animal Print Elegance ballgown showcases Matome's mastery of classic silhouettes. The bodice features an off-the-shoulder neckline, while the voluminous tulle skirt billows with every step, exuding a fairy-tale aura fit for a modern-day princess.
African Print Wedding Dress with Matching Doek by Antherline Couture
This Timeless Elegance African Print Traditional Wedding Dress showcases Matome's mastery of classic silhouettes. The African print bodice features an strapless neckline, while the voluminous satin skirt billows with every step, exuding a fairy-tale aura fit for a modern-day princess.
Umbhaco slip maxi dress by Chic and Posh
Effortless and ethereal, this umbhaco slip maxi dress by Chic and Posh embodies understated elegance. With delicate straps on a flowing silhouette, it exudes a sense of timeless allure, perfect for both casual strolls and upscale soirées.
For the fashion-forward Xhosa bride, the "Dramatic High-Low Hemline" gown offers a daring twist on tradition. The high-low skirt features layers of tulle that cascade into a dramatic train, while the fitted bodice showcases intricate beadwork that adds a touch of glamour.
More Designs By Chic and Posh 
 Thula Sindi
Thula Sindi's dress designs encapsulate a harmonious blend of elegance, innovation, and ethical fashion. Through their commitment to sustainable practices and her keen eye for detail, Thula Sindi has solidified their place as a visionary in the fashion industry, consistently delivering pieces that empower wearers to embrace their individuality while contributing to a more conscious world.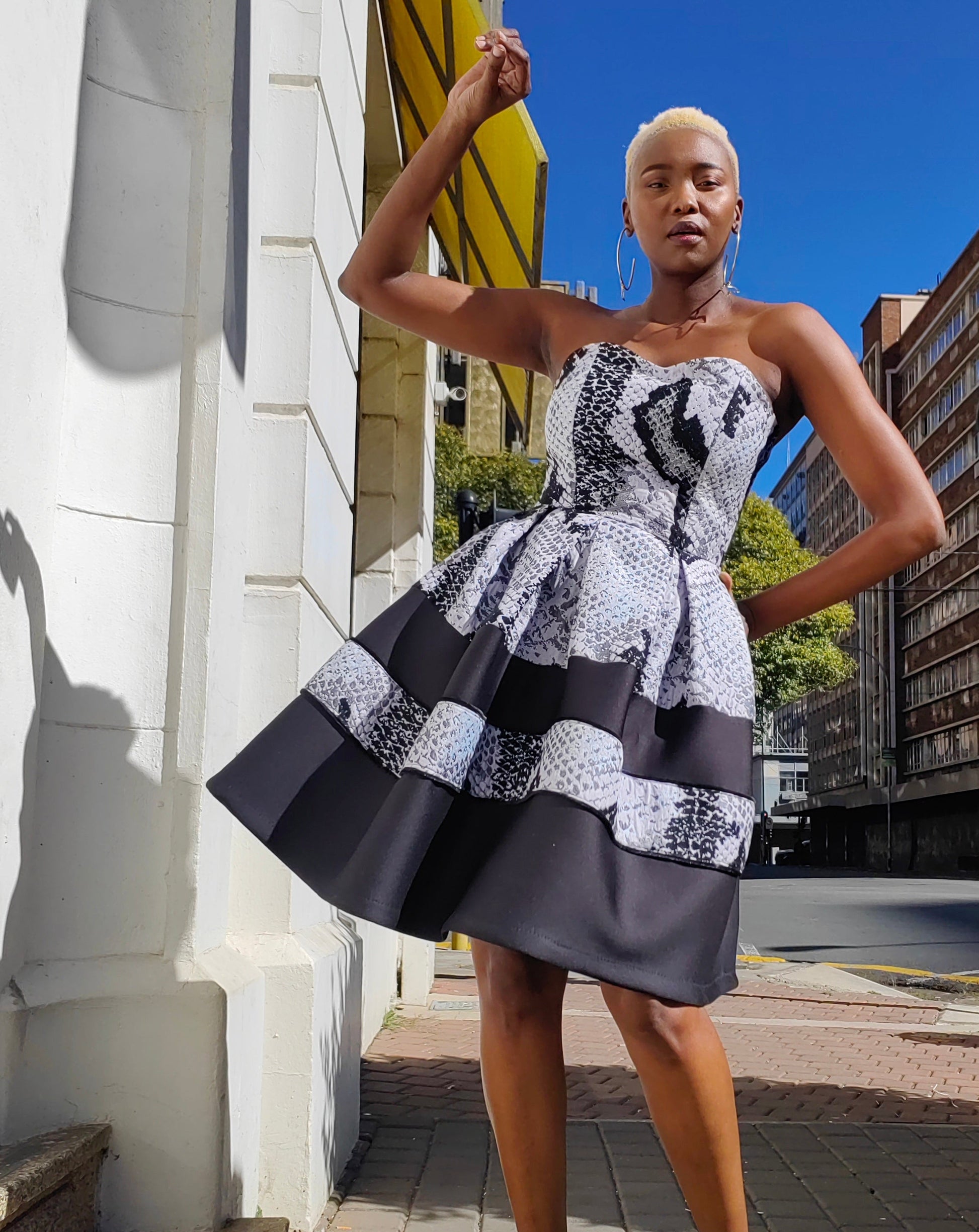 Thabo Maketha
Thabo Maketha designs are characterized by their attention to detail and innovative designs that incorporate to a variety of cultural prints and fabrics. From traditional Sotho gowns to elegantly modern cultural attire, Thabo Maketha's creations continue to captivate their clients with their elegance and sophistication.
This gown showcases a Sotho blanket coat over a form-fitting bodice adorned with intricate tight fitting pants for a romantic and airy look.
A sophisticated Sotho Print full gown with a mix of matching neckline beads exuding elegance and timeless beauty.
Traditional balck Sotho blanket over mans outfit worn with morotlo Traditional Sotho Straw Hat
Kalahari Fashions
Known for their luxurious and innovative Traditional African designs, Kalahari Fashions is a staple in the African fashion industry.
This SePedi Wedding dress by Kalahari Fashions captivates with its ethereal tulle skirt and illusion satin bodice. The delicate beading and embroidery create a look of understated glamour.
A true masterpiece, this Burgundy wedding gownby Kalahari Fashions features a corset-style bodice adorned with intricate matching beadwork. The cascading layers of tulle on the skirt add a touch of whimsy to this enchanting design.
Other Designs By Kalahari Fashions
 Thula Sindi Dress
 Tina Ngxokolo
 Designs By Sazi iAfrica
 Designs By Xhosa Brides
@celiwe_mabika
Designs By Kalahari Fashions
Exuding modern opulence, this Beige wedding gown by Kalahari fashions features a corset-style bodice adorned with intricate lace and beading. The voluminous skirt creates a sense of drama and grandeur.
Gert-Johan Coetzee
Gert-Johan Coetzee, renowned for his luxurious fashion creations, has consistently pushed the boundaries of design, redefining the world of fashion with his innovative approach. From red carpets to everyday wear, Coetzee's dresses stand as timeless pieces that seamlessly merge style and sustainability. Here is a collection of some remarkable Gert-Johan Coetzee dress designs, each telling a unique story through its intricate details, silhouette, and ethical craftsmanship.
Khosi Nkosi Designs 
Minnie Dlamini in Traditional Zulu Attire by @mskutty_molete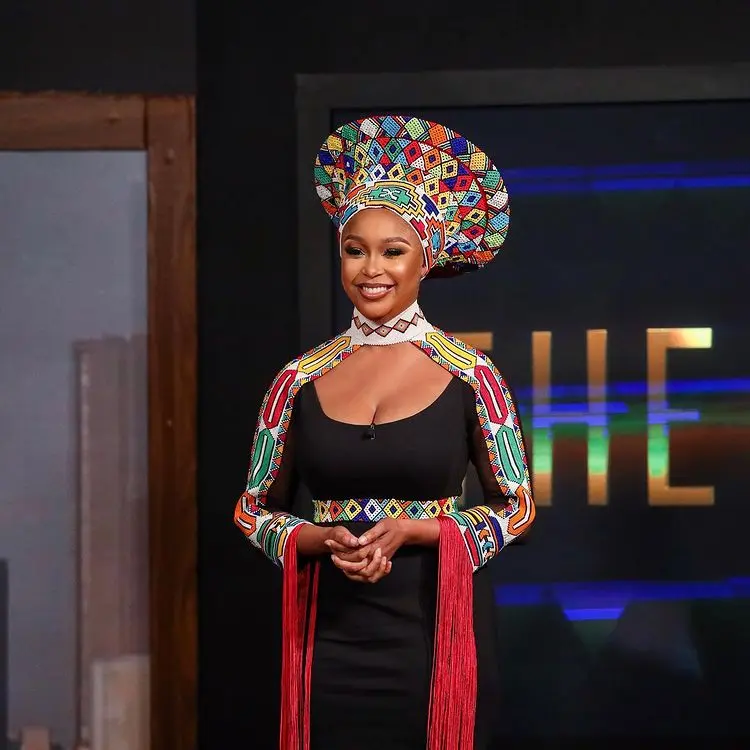 Conclusion
African traditional dresses are a celebration of the South Africa's cultural diversity and artistic ingenuity. Each outfit tells a story, reflecting the identity and heritage of the people who wear them. From the intricate beadwork of Xhosa Traditional Dresses to the bold patterns of Ndebele Traditional Dresses, these stunning traditional dresses exemplify the richness of African fashion and serve as a testament to the continent's enduring cultural legacy. Embracing and preserving these traditions ensures that the beauty and significance of African heritage remain alive for generations to come.